Clene is rapidly advancing a pipeline of nanotherapeutics to address high unmet medical needs in several disease areas.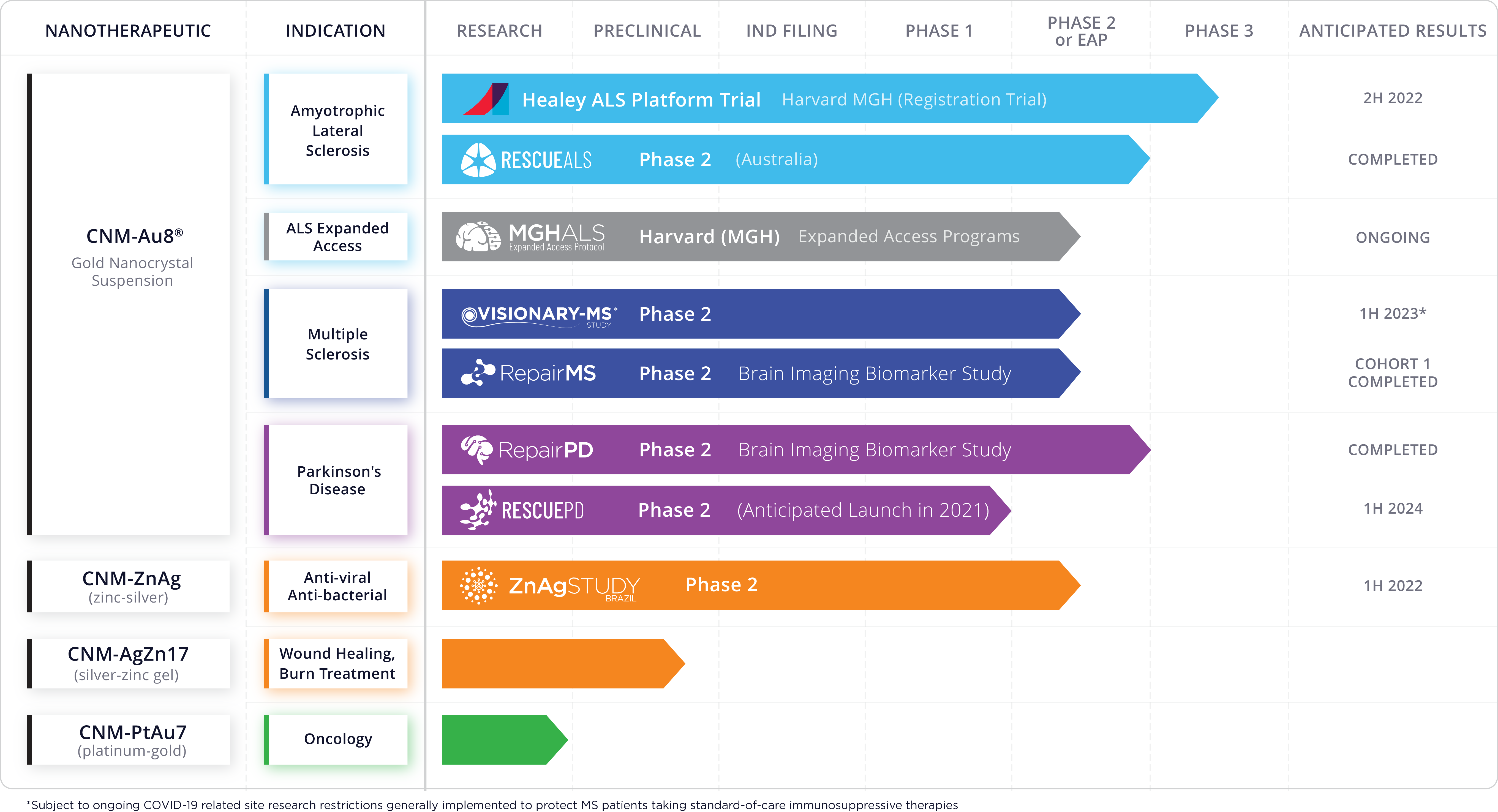 CNM-Au8
Clene engineered its lead drug candidate, CNM-Au8, to optimally enhance critical cellular energy producing reactions necessary for repairing and reversing neuronal and oligodendroglial damage. Orally-administered, CNM-Au8 has demonstrated safety in humans in Phase 1 studies (NCT02755870), and has been shown to have remyelination and neuroprotective effects in preclinical models1. CNM-Au8 crosses the blood-brain barrier and is not associated with the toxicities related to synthetic gold compounds or nanoparticles manufactured via alternative methods. CNM-Au8 is being evaluated in a Phase 3 registration trial for the treatment of amyotrophic lateral sclerosis (ALS). In Phase 2 open-label studies, CNM-Au8 has been shown to be safe and demonstrated target engagement in the brains of people with multiple sclerosis (MS) and Parkinson's disease (PD).
Amyotrophic lateral sclerosis (ALS) is a progressive neurodegenerative disease that affects motor neurons in the brain, brainstem, and spinal cord. In ALS, defects in cellular energy production and metabolic abnormalities can lead to motor neuronal dysfunction and death2,3. By targeting energy metabolism, CNM-Au8 may be able to protect motor neurons and restore function in ALS patients.
CNM-Au8 was selected out of a pool of drug candidates by an independent review committee on behalf of the Sean M. Healey & AMG Center for ALS at Massachusetts General Hospital to be tested in the HEALEY Platform Trial as one of the lead drug candidates. The trial is currently active and recruiting in the United States.
For additional details regarding the HEALEY platform, please visit HEALEY ALS Platform Trial Patient Information (massgeneral.org).
For additional information on Clene's trials of CNM-Au8® in ALS:
Multiple Sclerosis (MS) is a chronic disease that occurs when the immune system attacks nerve fibers and myelin sheath which protects and insulates healthy nerve fibers. This inflammatory attack results in destruction of the connections between nerve cells resulting in the symptoms of MS. In MS, oligodendrocytes, the support cells responsible for myelinating nerve fibers are energetically and metabolically stressed4,5. CNM-Au8 may aid oligodendrocytes by providing the energy production needed for these cells to myelinate and provide neuroprotection.
For additional information on Clene's trials of CNM-Au8® in MS:
Parkinson's disease (PD) is a progressive nervous system disorder that affects movement and the ability to perform common daily activities. PD has four main symptoms: tremor at rest in the limbs, jaw or head, stiffness of the limbs and trunk, slowness of movement, and impaired balance and coordination. Mitochondrial dysfunction and energy depletion is associated with PD and can affect the accumulation of toxic aggregates comprised of alpha-synuclein in the brain6-8. Clene is currently studying CNM-Au8 for the treatment of PD.
For additional information on Clene's trial of CNM-Au8® in PD:
CNM-ZnAg
CNM-ZnAg is a liquid solution currently being evaluated in symptomatic participants with acute COVID-19 infections who are not hospitalized at the time of enrollment. NCT04610138
CNM-AgZn17
CNM-AgZn17 is a topical gel polymer suspension of silver and zinc ions and is being developed for treatment of infectious diseases and to accelerate wound healing.
CNM-PtAu7
CNM-PtAu7 is gold-platinum nanotherapeutic. Initial in vitro research has demonstrated broad-spectrum efficacy across a variety of tumor cell lines.
About Clinical Trials
A clinical trial is a research study used to validate a new treatment or therapy in volunteers. Through clinical trials, researchers and healthcare professionals are able to determine if a treatment is safe and effective, and how it can be used to treat a specific disease or condition.
By participating in a clinical trial, you are taking an active role in the development and approval of new medicines and treatments. People who volunteer in clinical trials provide the medical community with valuable research and data that helps to facilitate the development of new and potentially life-saving therapies.
References:
1Robinson, A. P. et al. Nanocatalytic activity of clean-surfaced, faceted nanocrystalline gold enhances remyelination in animal models of multiple sclerosis. Sci Rep 10, 1936 (2020).
2Hor, J.-H., Santosa, M.M., Lim, V.J.W., Ho, B.X., Taylor, A., Khong, Z.J., Ravits, J., Fan, Y., Liou, Y.-C., Soh, B.-S., et al. (2021). ALS motor neurons exhibit hallmark metabolic defects that are rescued by SIRT3 activation. Cell Death Differ 28, 1379
3Vandoorne, T., De Bock, K., and Van Den Bosch, L. (2018). Energy metabolism in ALS: an underappreciated opportunity? Acta Neuropathol. 135, 489–509.
4Cui, Q.L., Khan, D., Rone, M., T. S. Rao V, Johnson, R.M., Lin, Y.H., Bilodeau, P.A., Hall, J.A., Rodriguez, M., Kennedy, T.E., et al. (2017). Sublethal oligodendrocyte injury: A reversible condition in multiple sclerosis? Annals of Neurology 81, 811–824.
5Rone, M.B., Cui, Q.L., Fang, J., Wang, L.C., Zhang, J., Khan, D., Bedard, M., Almazan, G., Ludwin, S.K., Jones, R., et al. (2016). Oligodendrogliopathy in Multiple Sclerosis: Low Glycolytic Metabolic Rate Promotes Oligodendrocyte Survival. The Journal of Neuroscience : The Official Journal of the Society for Neuroscience 36, 4698–4707.
6Pacelli, C., Giguère, N., Bourque, M.-J., Lévesque, M., Slack, R.S., and Trudeau, L.-É. (2015). Elevated Mitochondrial Bioenergetics and Axonal Arborization Size Are Key Contributors to the Vulnerability of Dopamine Neurons. Curr Biol 25, 2349–2360.
7Rocha, E.M., De Miranda, B., and Sanders, L.H. (2018). Alpha-synuclein: Pathology, mitochondrial dysfunction and neuroinflammation in Parkinson's disease. Neurobiol. Dis. 109, 249–257.
8Saxena, S., and Caroni, P. (2011). Selective neuronal vulnerability in neurodegenerative diseases: from stressor thresholds to degeneration. Neuron 71, 35–48.