Clene is advancing a pipeline of nanotherapeutics to address high unmet medical need in several disease areas.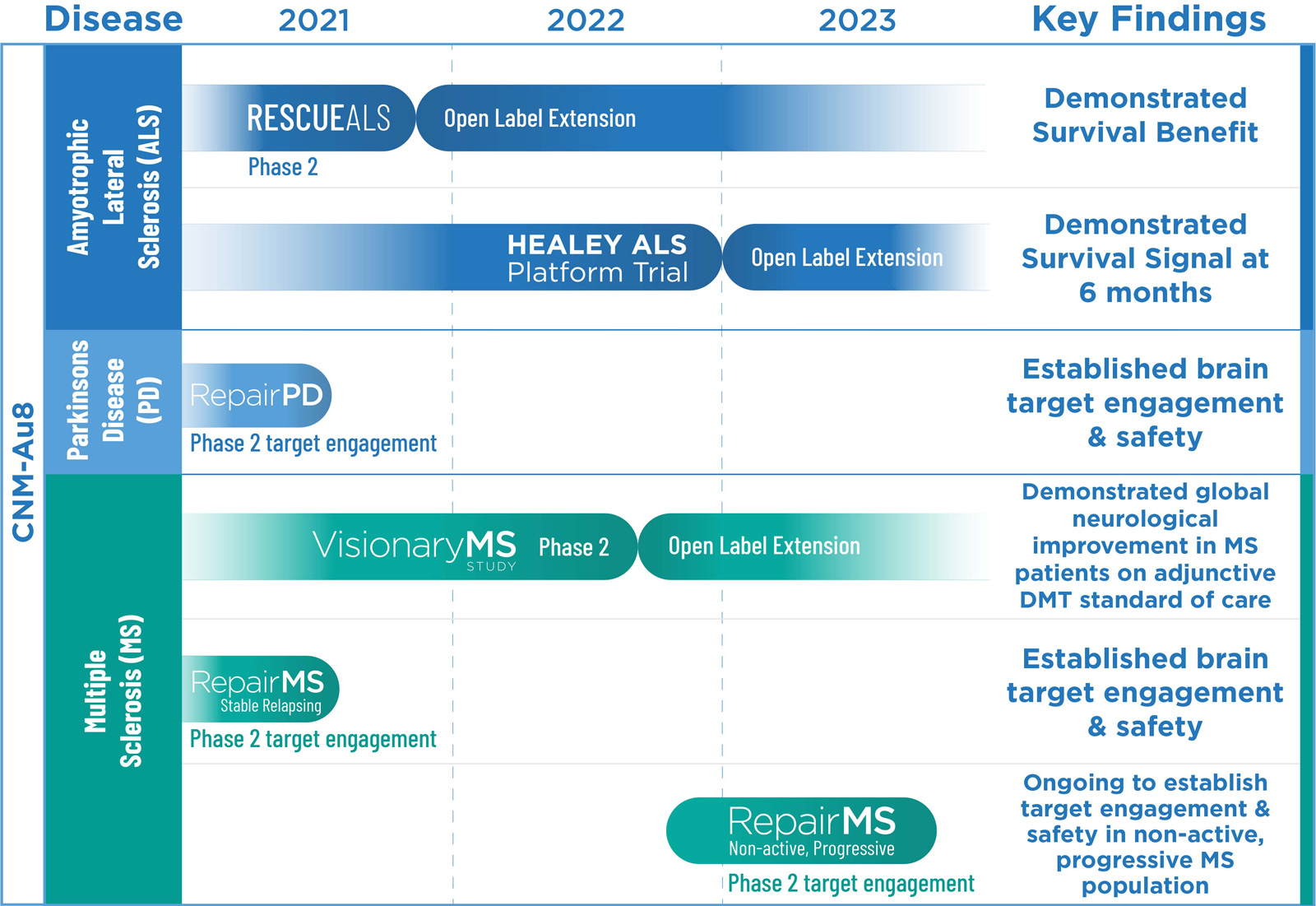 CNM-Au8
®
CNM-Au8® is a gold nanocrystal suspension currently in development as a disease-modifying treatment for people living with Amyotrophic Lateral Sclerosis (ALS), Multiple Sclerosis (MS), and Parkinson's Disease (PD).
For additional information on Clene's trials of CNM-Au8® in ALS:
For additional information on Clene's trials of CNM-Au8® in MS:
For additional information on Clene's trial of CNM-Au8® in PD:
CNM-ZnAg
CNM-ZnAg is a proprietary zinc-silver ionic solution that has demonstrated both antiviral and antimicrobial properties.
CNM-AgZn17
CNM-AgZn17 is a topical gel polymer suspension of silver and zinc ions and is being developed for treatment of infectious diseases and to accelerate wound healing.
CNM-PtAu7
CNM-PtAu7 is gold-platinum nanotherapeutic. Initial in vitro research has demonstrated broad-spectrum efficacy across a variety of tumor cell lines.
About Clinical Trials
A clinical trial is a research study used to validate a new treatment or therapy in volunteers. Through clinical trials, researchers and healthcare professionals are able to determine if a treatment is safe and effective, and how it can be used to treat a specific disease or condition.
By participating in a clinical trial, you are taking an active role in the development and approval of new medicines and treatments. People who volunteer in clinical trials provide the medical community with valuable research and data that helps to facilitate the development of new and potentially life-saving therapies.